Adaptable, Virtual Airport Layout Information At Your Fingertips
Aviation organizations routinely rely on the FAA to provide up-to-date airport layout information. Provided in a PDF format, this method acts as useful reference information for aircraft operators, dispatchers, controllers, and traffic managers, but they are unable to be integrated within a software environment. Furthermore, while there are other sources for digital airport layout information, they are often cost prohibitive to access.
The Mosaic Digital Airport Layout subscription service provides consistent and reliable digital layouts to commercial customers for dozens of airports, offering critical situational awareness information, particularly within software applications that display aircraft movement on the surface of an airport.
This Digital Airport Layout service is a cost-effective alternative that is offered in a standardized format that can easily be integrated into a software application. Additionally, the layouts can be used for aviation data analyses where the location of an aircraft in relation to a defined airport feature is required.
How It Works
The Mosaic Digital Airport Layout subscribers are sent the layout files in XML and KML formats for 40 airports on a monthly basis, based on bi-monthly updates from the FAA. For each adapted airport, the layout file includes information on various surface features at the airport, including:
Aprons
Blast Pads
Closed Areas (where applicable)
Construction Areas (where applicable)
Deicing Areas (where applicable)
Runways
Runway Marking Lines
Runway Marking Polygons
Taxiway Guidance Lines
Taxiway Holding Positions
Taxiway Intersection Markings
Taxiway Segments
Airport Buildings
We package this information and send it to you on a routine basis, so your organization is constantly up-to-date on the latest airport changes.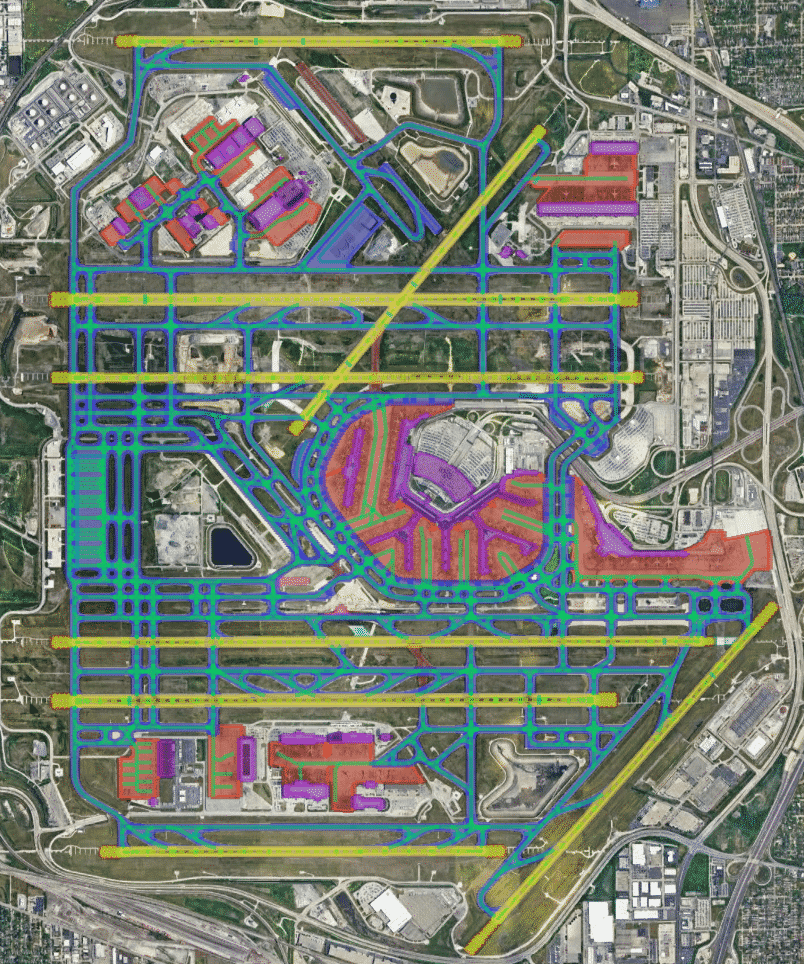 Our Process
When it comes to building the airport layouts, our aim is to be as thorough and accurate as possible. The airport layout process can be categorized into two different areas:
Off months: the months where FAA updates are not provided
On months, the months where FAA updates are provided.
For the on months, data provided by the FAA's Digital – Terminal Procedures Publication (d-TPP) is utilized to identify which airport diagrams include new or updated features from the previous cycle. For each identified change, the required updates are made to the layout files.
When the updates are complete, the airport layout files are packaged and posted on a web server for distribution to subscribers, 10 days before they become operationally valid.
Get ahead of your airspace operations by digitizing the airport layout information process. For more information, or to get started, contact us today.