The Mosaic Situation Viewer, known as MSV, is the enterprise version of the publicly available Airport Viewer product. MSV is an advanced situational awareness tool that helps aviation stakeholders cope with the ever-growing challenges of managing aviation operations. It provides situational awareness at airports in the United States and around the world. Users can see flights on the ground and in the air, tracking the progress of taxis, takeoff, and landing. Users can also follow flights in the non-movement areas of the airport.
MSV is being used by airlines in a number of environments ranging from ramp towers to operation control centers. The value of having a common operating picture across airline staff, no matter their location, cannot be overstated. Staff ranging from ramp control coordinators to traffic managers to ground service crews can see the current situation and a preview of the next few hours. MSV provides live visualization beyond the line of sight to all the nooks and crannies of an airport, so that all stakeholders have a full picture of operations at any given time.
Mosaic Situation Viewer is web-based, meaning it requires no installation and is accessible from anywhere. MSV uses a highly scalable, redundant cloud architecture leveraging the power of Amazon Web Services. The initial instantiation of MSV focuses on situational awareness in and around an airport. Based on our diverse user base feedback, Mosaic is adding features and enhancing capabilities to include more airport and en route use cases according to an aggressive development roadmap.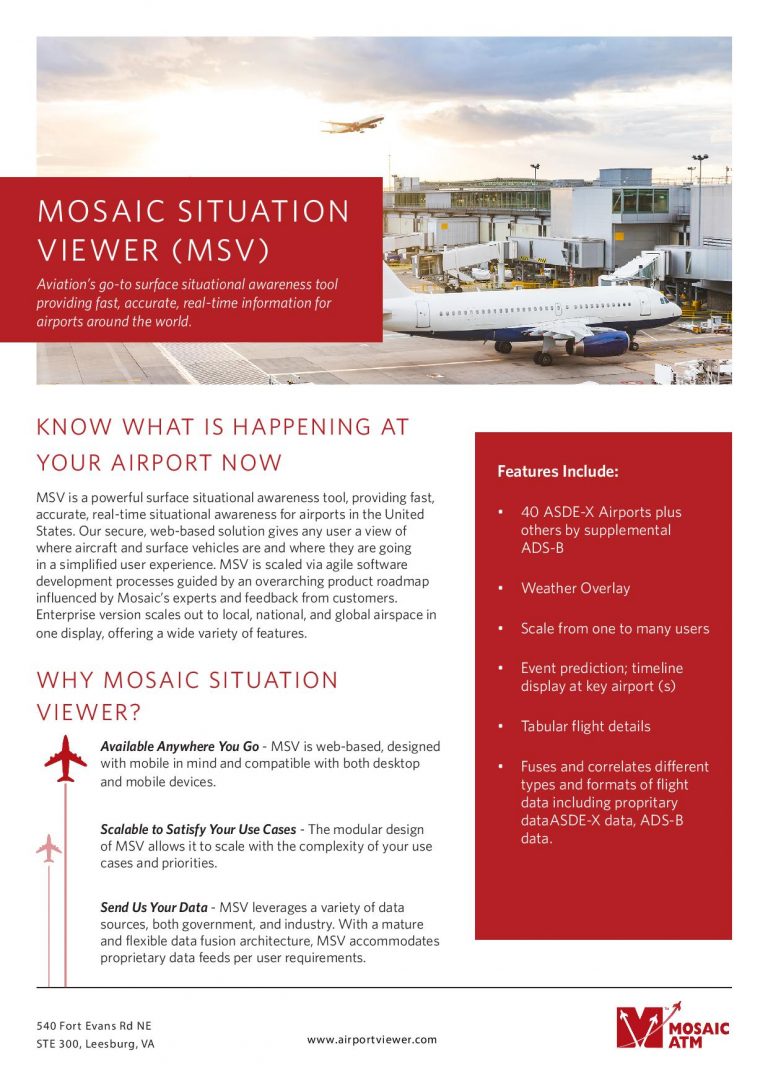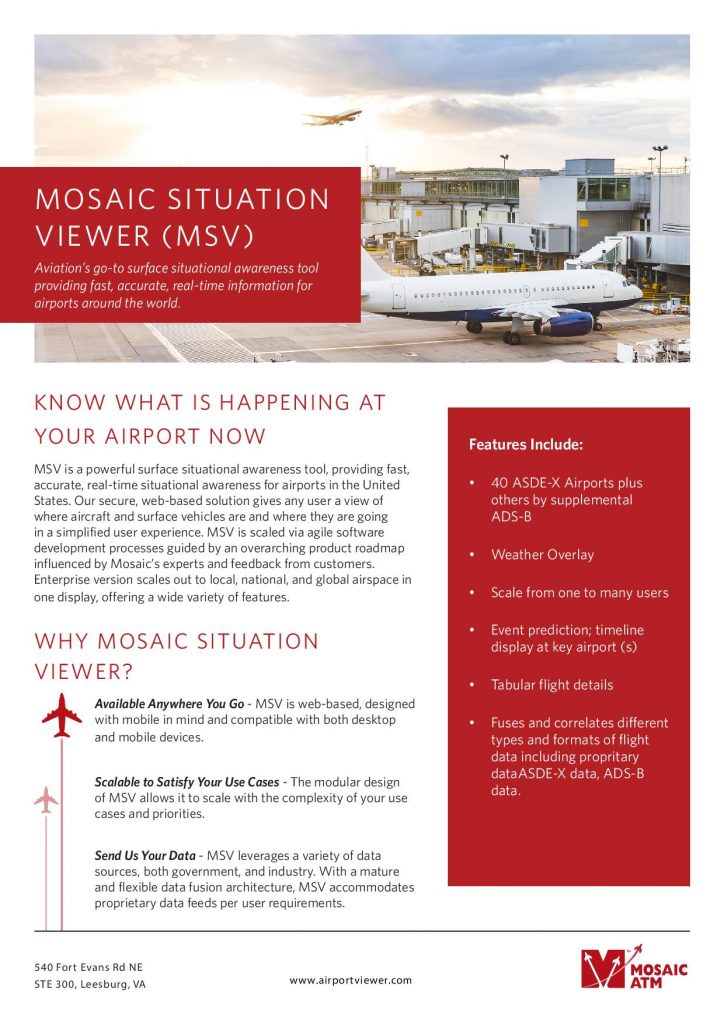 Mosaic Situation Viewer Overview
The graphic below shows the high-level features and functionality of MSV. Click on the different sections to learn more about specific capabilities. MSV continues to be enhanced. For a full list of the features, please contact us!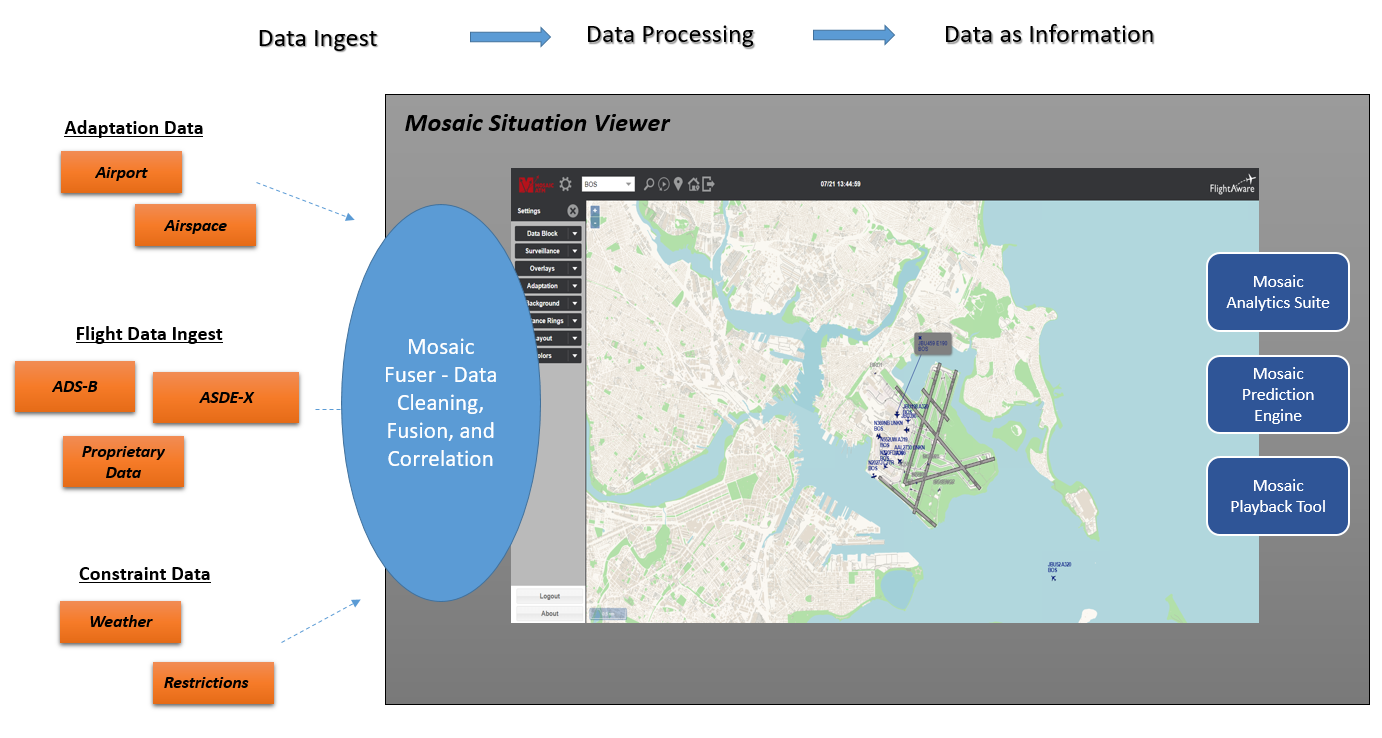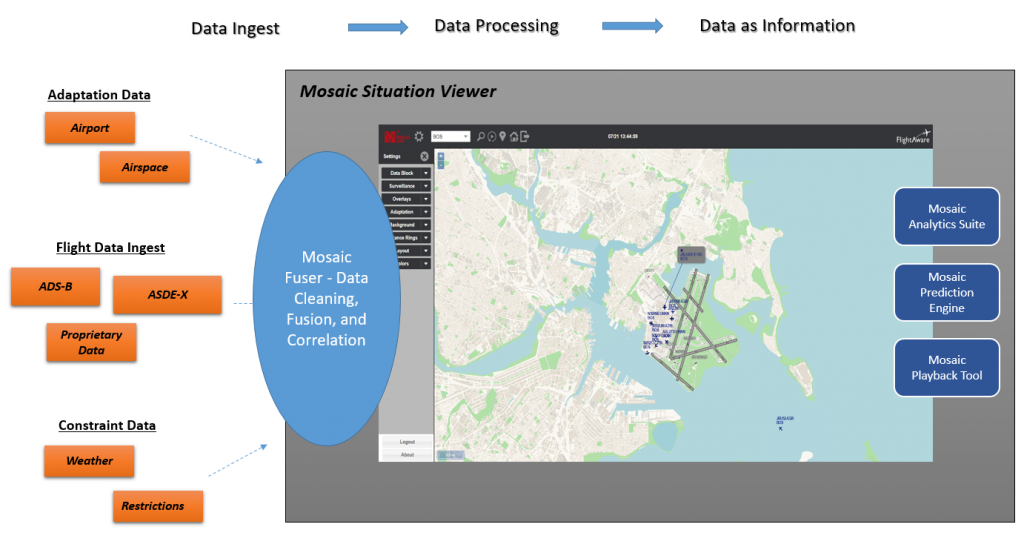 Data Ingest
MSV's flexible architecture enables and facilitates the collection and incorporation of aviation-related data. Mosaic Situation Viewer handles three core categories of data: Adaptation Data, Flight Data, and Constraint Data.
Adaptation Data
MSV leverages Open Street Maps as its default background map. MSV also provides airport-specific base maps that can contain more detailed information about the airport's surface features.
Flight Data
MSV supports the incorporation of ADS-B, ASDE-X, and proprietary data that a customer may want to be merged into the visualization and logic. For ADS-B data, Mosaic collaborates with FlightAware, provider of the world's largest ADS-B network, allowing MSV to provide situational awareness for almost any airport in the world!
Constraint Data
Constraint data is a critical component of situational awareness and includes data such as weather and National Airspace System restrictions. MSV incorporates these data to help stakeholders understand the constraints impacting operations.
Mosaic Fuser
Mosaic's industry-acknowledged, highly recognized Data Fuser is responsible for the data ingest and processing of data for MSV. Our Fuser technology confronts the aviation industry's significant challenge of combining and making sense of multiple, overlapping data feeds, processing and synthesizing inputs from these feeds to provide a consistent set of fused flight data. The Mosaic Fuser allows MSV to fuse disparate flight data together to create one correctly identified flight. This empowers MSV users to leverage multiple data feeds in the same application, presenting the right flight in the right position on the user interface.
Mosaic Analytics Suite
MSV has the ability to gather, host, create, and visualize analytics that are important to the end user. It is Mosaic's experience that when it comes to analytics, customer use cases vary greatly. Mosaic has developed and deployed various analytics capabilities that add value to available aviation data, and can customize reports to meet your specific needs. These analytics can then be available in MSV or in a separate visualization depending on customer workflow. Contact us to discuss your requirements!
Mosaic Prediction Engine
The Mosaic Prediction Engine is a timeline capability in MSV that allows users to visualize and understand predicted times associated with their operations. The Prediction Engine uses Mosaic's machine learning models, but can also integrate with an airline's proprietary models. These predictions provide an airline with a planning horizon that supports proactive decision-making such as how to sequence flights moving from the gate through the movement area and how to minimize or eliminate taxiway congestion.
Mosaic Playback Tool
The Mosaic Playback Tool enables 72-hour replay/playback functionality in MSV, an invaluable feature for evaluating prior operations and training new staff. Users simply select a date/time of interest and hit play or use the Flight Finder capability to select a specific flight. The settings menu allows users to adjust the flight data attributes and general look/feel of the picture to get the most of out the visualization. Users can also adjust the speed of the replay on the fly, allowing for quick access to the operational time of interest.