Experience, Knowledge, and Performance
Mosaic ATM has extensive experience in all phases of the research-to-sustainment spectrum, with a track record of impartially supporting the FAA procurement process. Mosaic's seasoned systems engineers, averaging over 20 years of experience, have an in-depth understanding of the FAA's Acquisition Management System (AMS) and have supported the FAA's research and procurement process across a wide swath of systems and capabilities.
Our services in the early research phase include performing detailed analyses of current operations and system performance; conducting real-time data processing and flight matching; identifying mission needs and analyzing shortfalls; and performing concept engineering and validation activities, including initial human factors assessments. Solution phase services include algorithm design; prototype development; modeling and simulation; shadow-mode assessments; and operational trials designed to develop and validate functional and performance requirements. Mosaic has expertise in identifying alternatives for how solutions can be decomposed and functions allocated among FAA systems and is adept at developing and maintaining Enterprise Architecture (EA) products documenting new capabilities and procedures within the NAS. We have developed and used EA products in the acquisition and program support efforts for Terminal Flight Data Manager (TFDM), Traffic Flow Management System (TFMS), and System Wide Information Management (SWIM)-related programs. Mosaic performs cost/benefit analyses to inform investment decision-making in the NextGen era through fast-time simulation and operations analyses and conducts risk analysis and mitigation throughout all phases of the systems engineering process.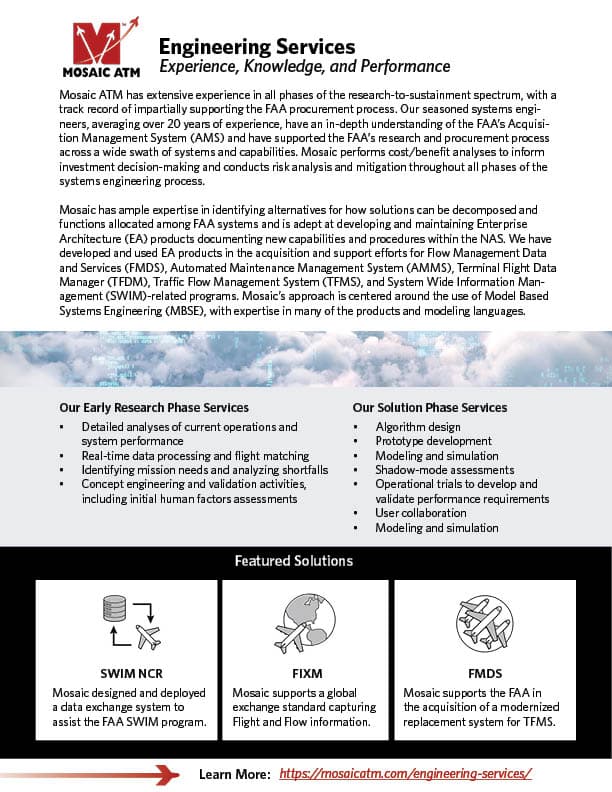 Don't Have Time to Read Now?
Explore our service areas and highlights from some of our past successes across the research-to-sustainment spectrum:
We identify system shortfalls related to system capabilities, operations, procedures, safety, security, human factors, performance, and RMA via in depth system and data analysis.
We develop comprehensive concepts that address identified shortfalls, provide maximum benefit, and advance program and agency goals.
Mosaic ATM's iterative, proven problem-solving process transforms concepts into clear, robust, and validated requirements that address business objectives, technical constraints, and stakeholder needs.
Mosaic has extensive experience in fast-time modeling and simulation to support FAA and NASA analysis efforts in evaluating concepts of operations, conducting performance assessments, and developing performance requirement specifications.
Mosaic ATM understands the importance of risk analysis and mitigation and develops solutions that address these issues.
Learn more about Mosaic ATM's engineering service capabilities: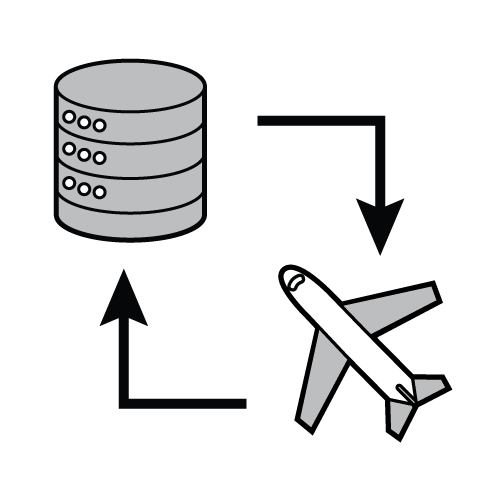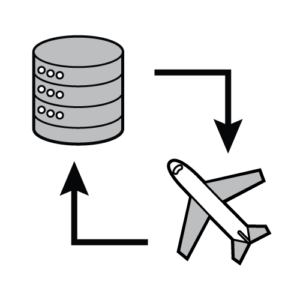 SWIM NCR
Mosaic designed and deployed a data exchange system to assist the FAA SWIM program.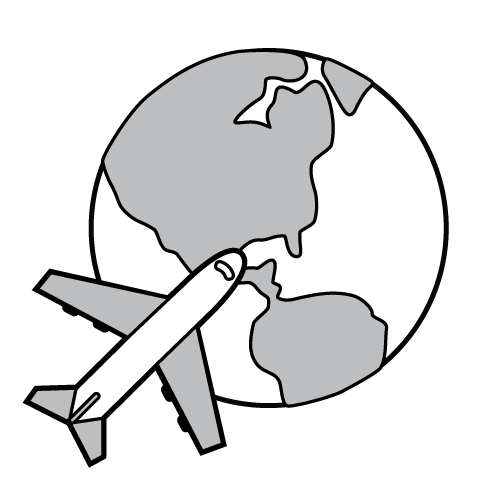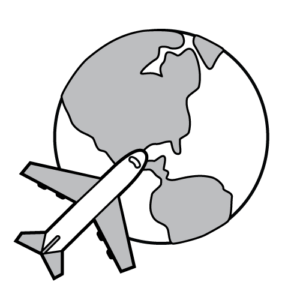 FIXM
Mosaic supports a global exchange standard capturing Flight and Flow information.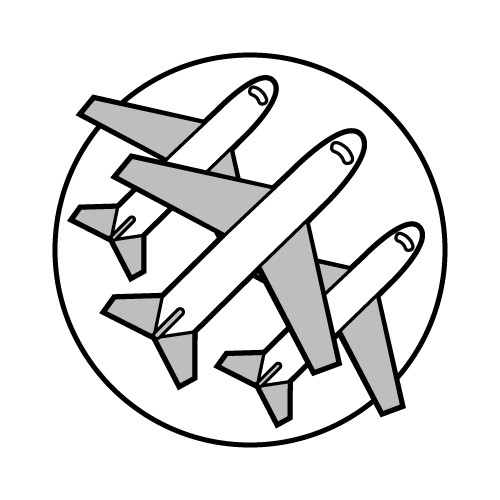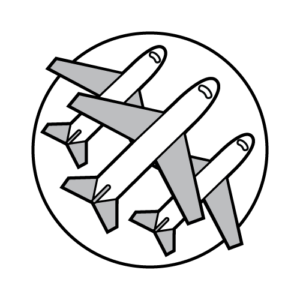 DAC
Mosaic helped NASA & the FAA dynamically balance airspace capacity & demand.
See more of our Engineering Services Work here.
Mosaic's system engineers average over 20 years of experience supporting the FAA's research and procurement process.